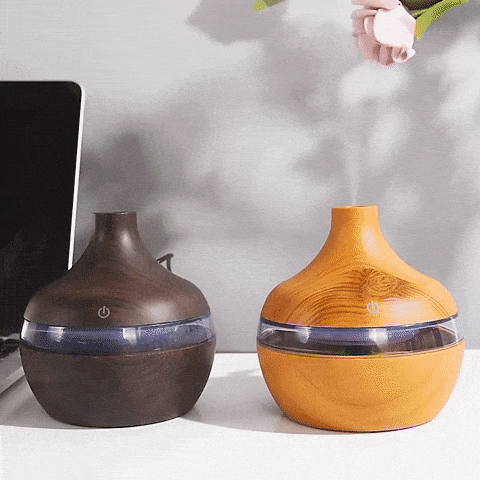 Buy Online Portable 300ml Ultrasonic LED Night Light Aroma USB Charging Humidifier Air Essential Oil Aroma Diffuser Purifier Atomizer Colorful Light Humidifier; Shop Online today!
Humidifier Air Essential Oil Aroma Diffuser is exquisite small, does not take up space, is used in the car, enjoy the fog of water vapor. 300ml USB wood Ultrasonic air humidifier Electric Aroma air diffuser Essential oil Aromatherapy cool mist maker for the home
- Deep moisture, meticulous. Micro-molecules easily penetrate the skin surface,    direct to the base layer, keep the cells full of water.
- It comes with a colorful night light, quiet night, which helps you have a good sleep.
- Transparent visual water tank, keep abreast of the remaining water, water in advance, moisturizing worry.
- Anti-skid at the bottom; USB universal interface; smooth switch control lights
Simple Operation: The using steps are:
1. Lift up the cap, fill the water tank
2. Add drops of aromatherapy /essential oil
3. Connect the humidifier to the power source and touch it to turn it ON.
Working Mode:
Touch Switch -- Easy to operate
First touch: Turn ON the LED light, light color changes automatically.
Second touch: Turn OFF the LED light, and turn ON the MIST.
Third touch: Turn OFF the device. 
Product parameters:

Working time: up to 5-6 hours USB plug
Material: PP/ABS/PC
Mist capacity: 30ml/h
Water capacity: 300ml
Size: 145 * 110 MM
Packages: 

1 x Humidifier, 1 x Sponge Stick, 1 x USB Cable, 1 x User  Manual  
4 Great  Reasons to Buy from Us 

Guaranteed Satisfaction > or your money back💸
Shipping Time:
GB - UK Delivery ONLY. Allow 1-3 Days Processing Time Tracking Number for Wine & Food Hampers
✈ Estimated delivery time 1-5 days for UK orders
⏳ Allow 1-3 days processing time tracking number for the USA
✈ Estimated delivery time 8-12 days for USA orders
🌎 Allow 1-3 days processing time tracking number for rest of Countries
✈Estimated delivery time 10-18 days to reach destination Countries Orders