Wine & Premium Waxed Cheeses and Nibbles Christmas Treat ¦ A Wine Lovers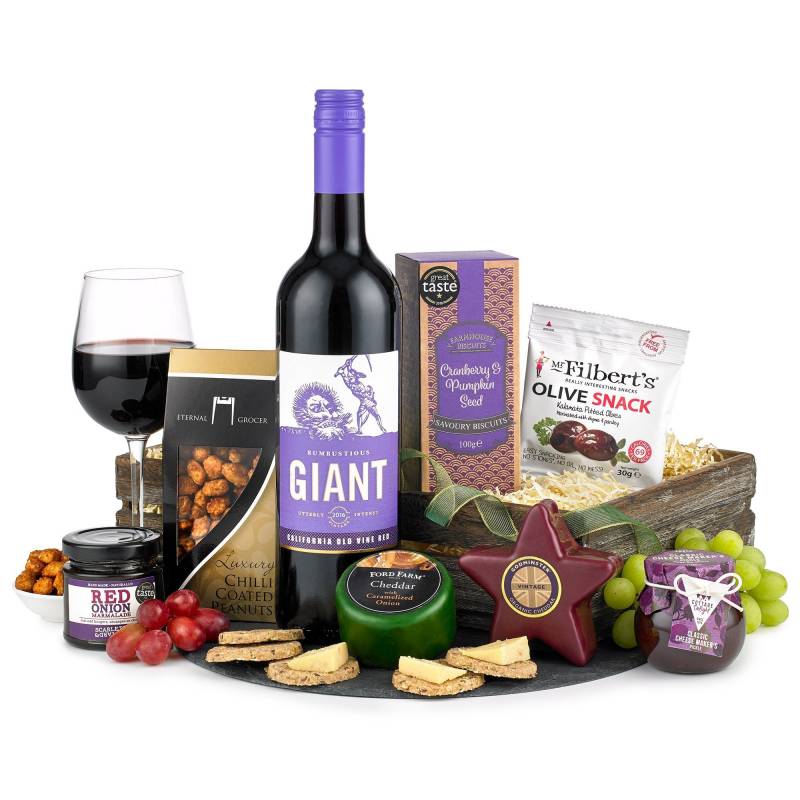 Buy the Perfect Food Hampers and Gifts at A Wine Lovers! ORDER NOW FOR DELIVERY FROM 16TH OCTOBER 2019 ONWARDS. Shop Online NOW!
Add to Cart. A Delightful Mix of Red Wine, Cheese, and Nibbles. Festive Traditional Classic Old Wine, Premium Waxed Cheeses. and Nibbles Gift Treat. Luxury Gift Hampers Christmas Hamper - Xmas Food Hampers and Gift Baskets. 
A Great Gift for all the Cheese Lovers out there, this Luxury Cheese, Wine, and Nibbles Hamper contains our Finest Selection of Waxed Cheeses
Inside the Wooden Slatted Crate, you will find
Rumbustious Giant Old Vine Red 75cl (California)
Godminster Vintage Cheddar Star 100g
Ford Farm Cheddar with Caramelised Onion 100g
Eternal Grocer Chilli Coated Peanuts 100g
Cottage Delight Classic Cheese Maker's Pickle 115g
Farmhouse Cranberry & Pumpkin Seed Biscuits 100g
Mr. Filbert's Kalamata & Green Olives 30g
Scarlett & Mustard Red Onion Marmalade 125g
Shipping Notice
This product will be delivered from our dedicated gourmet food and drink warehouse and will be sent separately from the rest of your order. International delivery options are not available for this product. Due to courier restrictions, we are only able to deliver this product to mainland Great Britain excluding some Scottish Highland postcodes. UK delivery only.
By placing an order for one of these items you are declaring that you are 18 years of age or over. These items must be used responsibly and appropriately.
Delivery of age-restricted items can only be delivered to the address on the shipping label, but this can include the reception of a commercial building. A signature of the recipient will be required upon delivery. Photo identification will be required if a person appears under 25, to prove that they are over 18 years old. An age-restricted item can be delivered to another adult over the age of 18 at the same address. Delivery to a neighbor or nominated safe place location is not available for these items. If an adult over the age of 18 is not available at the address', the item will be returned to www.awinelovers.com for re-delivery the following day.
List of acceptable photo identification:
Passport- Driver License- UK National ID